Your steps are a very chic and very easy way to make a slope walkable yourself, where garden and landscape builders, among others, would only start with heavy equipment, which is difficult and extremely costly with existing installations. The installation is done quickly and easily.

I saw a great advantage in being able to position the steps individually in advance, depending on taste or circumstances, in order to get a picture from a distance where corrections can still be made if necessary. From afar, the steps could be mounted without any problems on different slopes. I mounted a crossbar at the front and at the back to prevent the step from settling and to prevent it from "sinking in" at the back.

Last but noch least, I sprayed a water-salt solution several times a day to accelerate the corrosion process, which caused the steps to "age" within a very short time.

For our part, a clear recommendation of your slope steps. The telephone conversation we had in advance about your steps was also very well-founded.

As a smal hint or suggestion ... the 2 rear feet could easily be 10 cm longer. This would possibly improve the grip on a steeper slope. If necessary, I would have simply extended the feed.

Continued good business and a good time to you.

Best regards.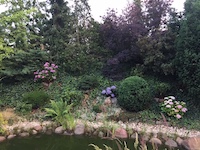 A. H. from Z. (Germany), in July 2023





Hello Mr Wilhelm, the steps were here in Switzerland super fast. Great idea, easy to "install", stable and great workmanship! As you can see, I'm completely thrilled and I'm going to start promoting them to my neighbours, who all have gardens with a slope of over 20% :) I hope one or two of them will get in touch with you. I already know that the steps will make my "gardening life" much easier!





F. L. from G. (Switzerland), in June 2023





Hello Mr Wilhelm, here are a few impressions of what we have done with your slope steps. The slope steps have upgraded our garden considerably and you can walk comfortably. (Note from Slopesteps.com: These are slope steps and walkway slabs).







B. F. from D. (Germany), in May 2023






Hello Mr Wilhelm, we find the slope steps really great and it was super easy to install them. Nothing compared to the previous "forest stairs". We give the product 5 of 5 stars.






B. J. from V. (Germany), in March 2023





I am completely satisfied with the slope steps (or hill stairs), the product fully meets my expectations! Quick, simple assembly without time-consuming preparatory work; neatly finished. The ideal solution for our garden.



O. P. from S. (Germany), in July 2022





We are very satisfied!

Dear Mr Wilhelm, we are sending you a photo of our slope with steps as an attachment. The steps should be more platforms for us to be able to do gardening work more easily and safely. A "real" staircase to get to the top is at the side. The poles or tree stakes are not for growing giant tomatoes, but are also for our safety.

We are very satisfied and patina is already developing.

Thank you and best regards





D. and A. K. from F. (Germany), in October 2021






Thank you very much for your great product!

Super product, far exceeded our expectations! Easy to install, very flexible for very different slope formations, good and careful instructions!

Margot H. from M. (Germany), in September 2021





Hello Mr Wilhelm,

I would like to inform you that the slope steps (or hill stairs) worked fantastic. I am just happy and satisfied and I am as happy as a baby :). Thank you very much for the excellent advice. I wish you all the best.





Swantje H. from A. (Germany), in September 2021





Dear Mr Wilhelm, enclosed is the feedback on the slope steps (or hill stairs). The "construction" of the stairs worked great, we are very satisfied with the result and the advice you gave us on the phone was very helpful. We would be happy to send you more pictures. The sample step and the sixth midi step are not visible because they disappear - also in the slope on the other side - under the plants. Yours sincerely.






Thomas M. from H. (Germany), in June 2021





Dear Mr Wilhelm, dear colleagues, in autumn 2020 I ordered the slope steps (or hill stairs) for the very steep section of my parents' garden in K. in the Czech Republic. First just 3 steps, to try them out, then the rest straight away. Apart from the fast and flawless delivery, the steps were installed in one afternoon without any problems, since then they have all held firmly, even after the winter no touch-ups were necessary, nothing wobbles, you still feel safe when walking. We also used the steps in winter. Compared to a concrete staircase, they were snow-free and non-slip faster. The plants that now sprout through the holes in spring are trodden on when walking, which is no problem at all. Visually, the steps are also a beautiful and interesting element in the garden. All in all, a quick and flexible, but still fully functional and elegant alternative. Thank you very much! I wish you and your staff good health and many satisfied customers.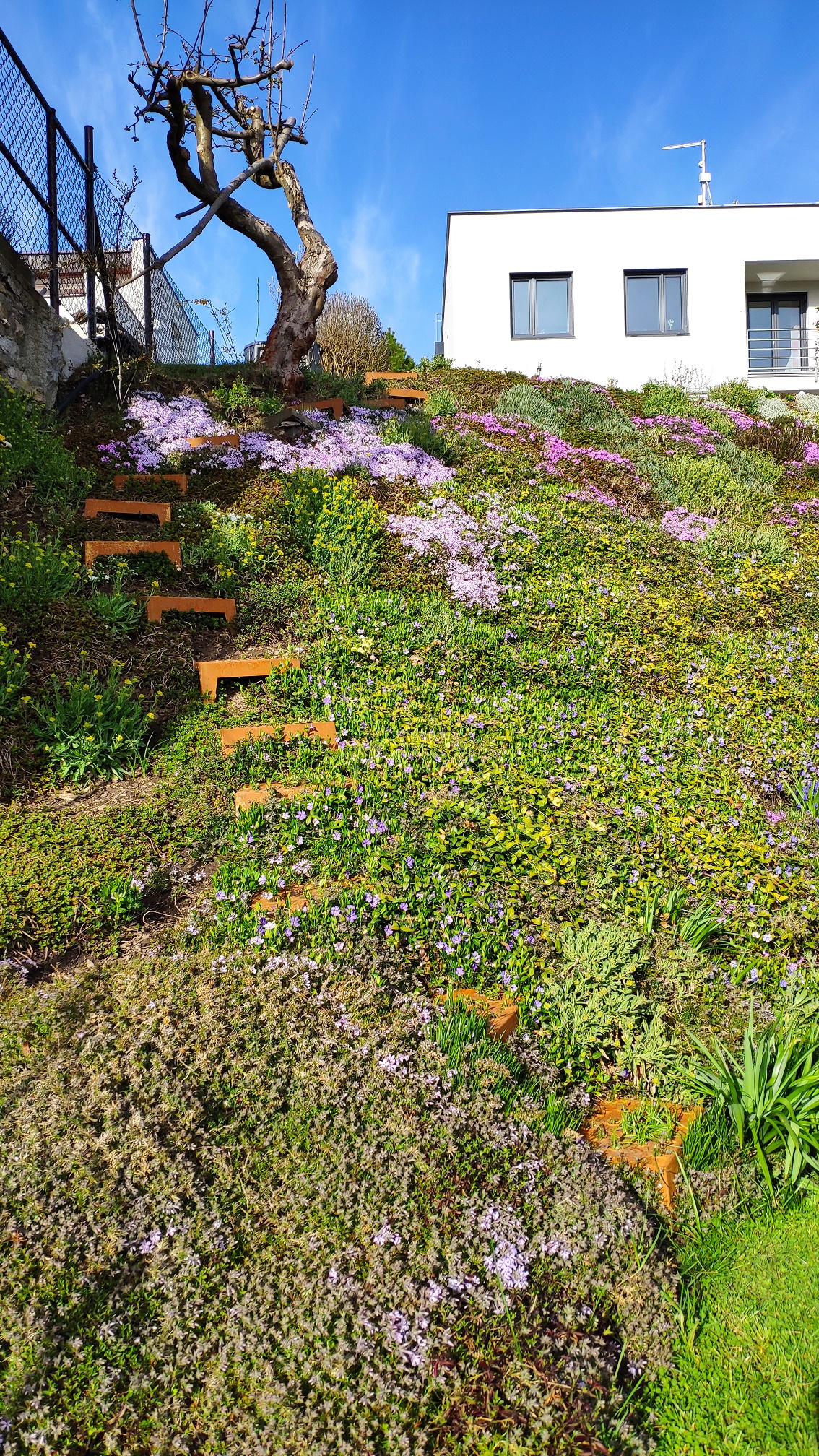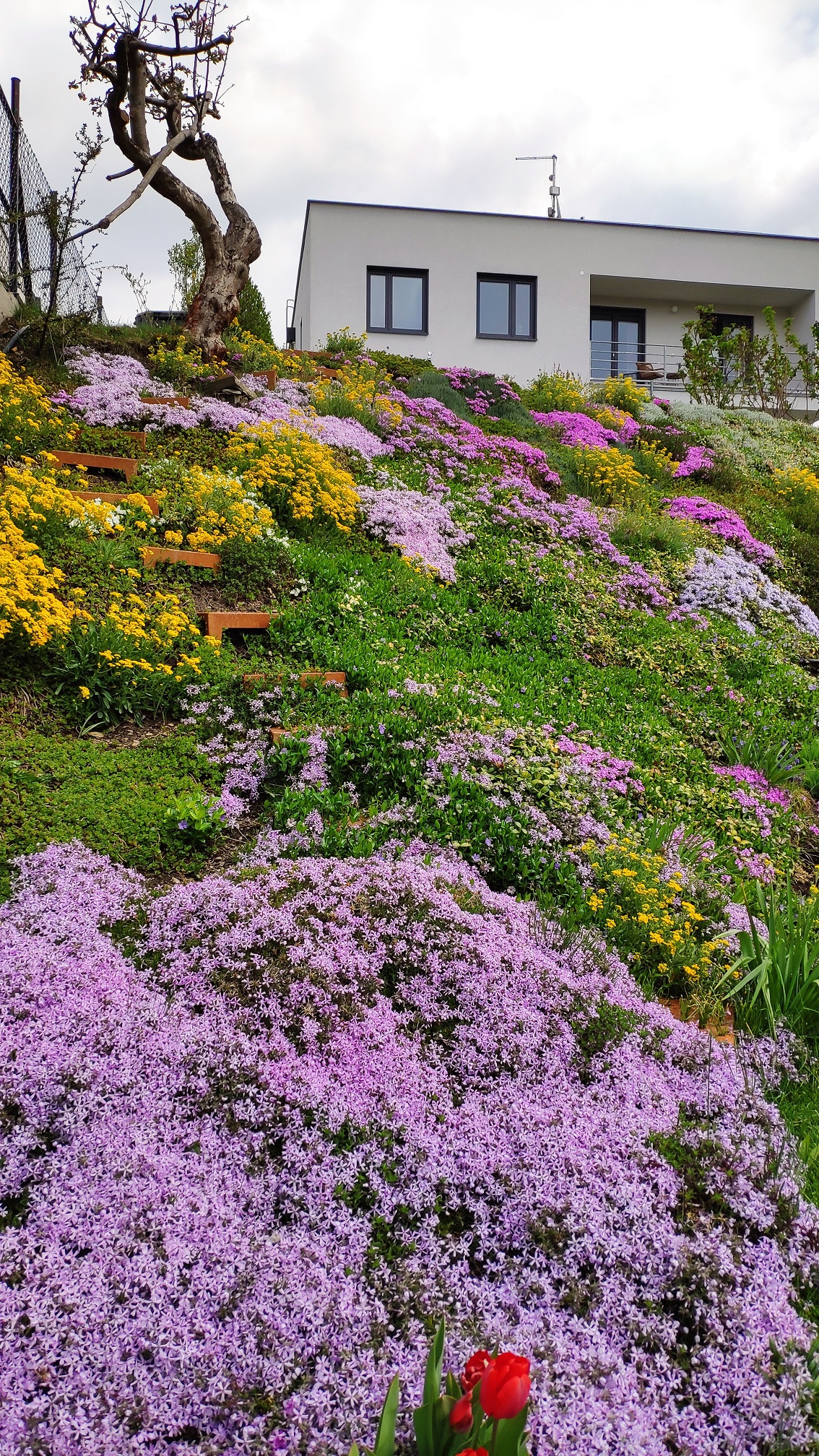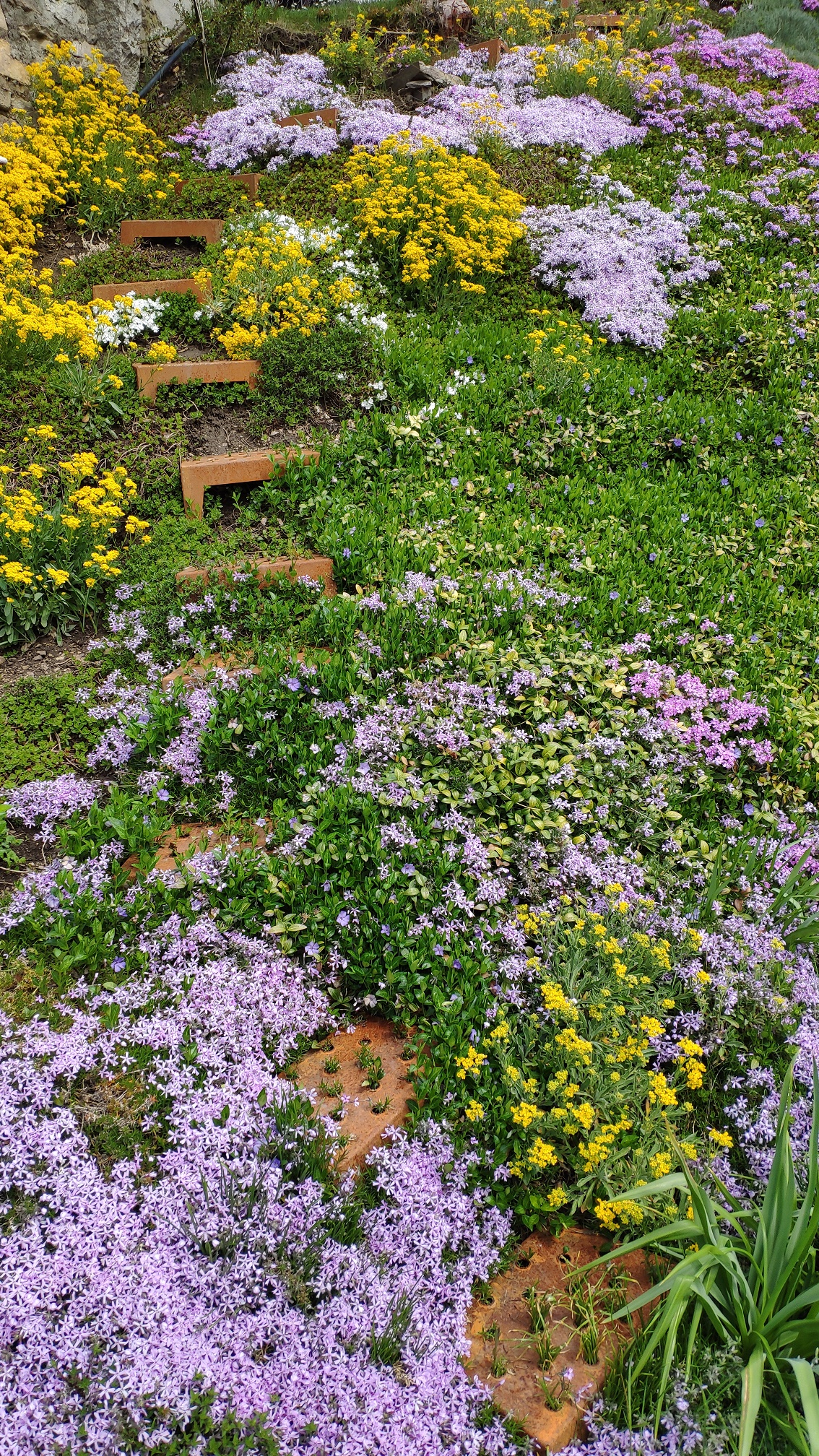 Jana T. from R. (Germany), in May 2021





5 stars for satisfaction. The product fully meets our expectations!





Anette K. from P. (Germany), in May 2021





Dear Mr. Wilhelm, I have received the 5 slope steps (or hill stairs) and have already integrated them into the slope. I have also completed the evaluation. Your product is the absolute hammer, a unique and glorious idea. The whole order, the process and the transport were simply brilliant. I searched for a long time!!! There is no product in Switzerland that is even half as good. Your product is super! Why don't you come to a building fair in Switzerland? I think you would have great success. With best regards.




Rolf Steiner from E. (Switzerland), in May 2021





An initial assessment: The steps are an excellent aid when maintaining slopes and embankments, such as planting, weeding, fruit harvesting, etc., and provide safety from slipping.




Family T. from V. (Germany), in May 2021





Very satisfied with the product, my expectations are fully met. Delivery within a very short time. Assembly instructions are very good in words and pictures! Product is absolutely recommended.

Werner E. from O. (Germany), in April 2021





The product fully meets my expectations, I am 100% satisfied. 

Willi M. from K. (Germany), in March 2021





We have discovered that the steps are also "suitable for winter"!





Gisela J. from A. (Germany), addendum in February 2021





I am completely satisfied with the product, the slope steps (or hill stairs) meet my expectations 100%. Super fast delivery. Easy to assemble and practical for my small, steep slope.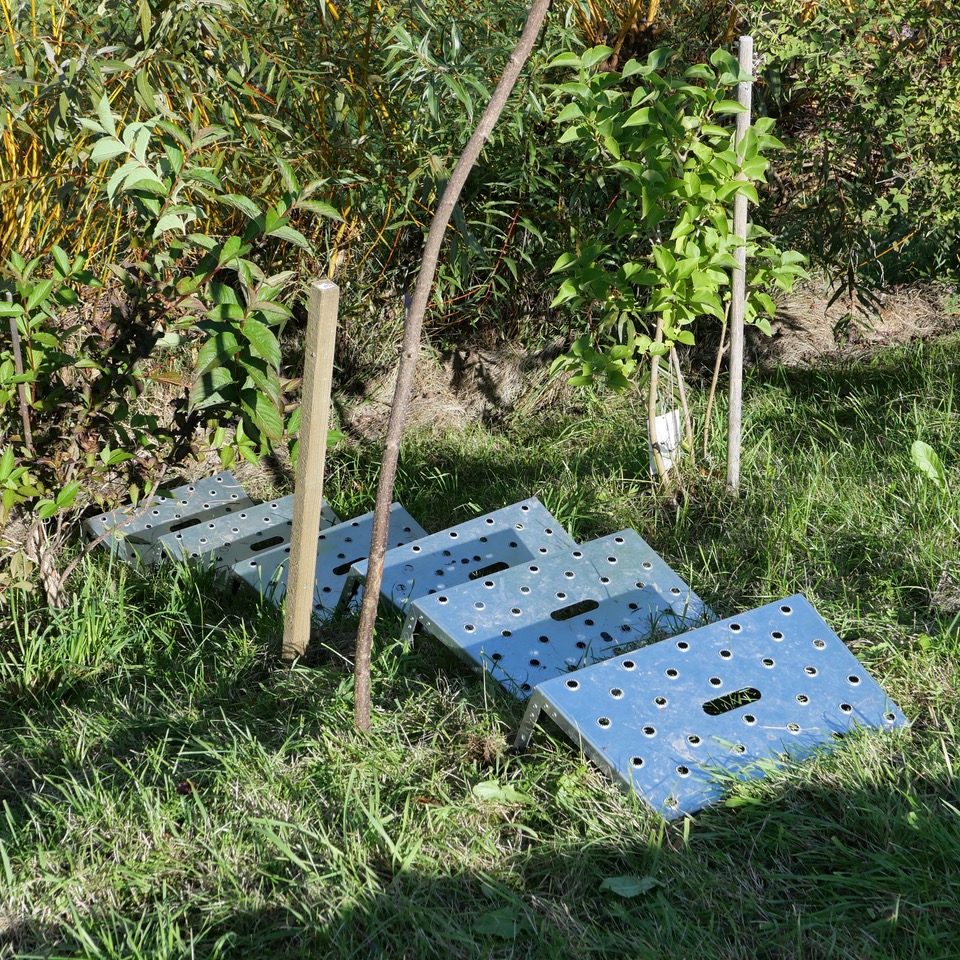 Werner B. from B. (Germany), in September 2020





Mr Wilhelm, I am delighted with the quality of the steps and especially how easy they were to install. Now I can reach my plants without any problems and without having to enter the neighbour's property.  I particularly like the fact that the steps are already oxidising after a few showers. I think they fit even better in my garden this way.






Renate S. from R. (Germany), in July 2020





Hello Mr. Wilhelm, we tried to put our enthusiasm about your product, your services and the result into pictorial words.






So will we also (have to) create horticultural serpentines - or ...? Fast delivery - faster than expected. Competent advice and own planning, from sample purchase to guideline - reordering is also possible.







Steps that are well thought out in detail, could even be painted to match the colour. Well-balanced between slope, tread comfort and laying width.







It went well - better and more surprisingly than expected. If you thought, then you only thought' ... Yes, woman can do it herself! And what do you mean by knee pad? - Break cushion!







The 'tread' staircase (23 steps from top to bottom) and the stairs (8 steps starting from the bottom, which was easier after all) are already finished. ... and the result looks like much more work and effort than it was. - Was it really only because of the interruptions to enjoy it or? Walking briskly - more comfortable than I had hoped. Next to it, where it's even steeper and rarely trodden on, it's enough to take the steep path with a targeted intermediate step onto the terrain.







Even planting is a pleasure here on the slope now, not only because of the parking areas.







Even mowing has never been so easy. For the first time in 30 years, I was able to use the garden's evening sun corner so quickly, safely and comfortably without ropes. Where is our nasty slope (now)?


Gisela J. from A. (Germany), in May 2020









Martin S. from G. (Austria), in May 2020





Slope steps (or hill stairs) have arrived. Thank you. Really a brilliant super invention. Did you come up with that yourself? I'm very happy. Our reed slope has been waiting for something like this for 12 years now!!! Attached are pictures. Not quite straight, but great for walking down!







Marion S. from R. (Austria), in May 2020





Great product you have here! Will recommend it to others!






Günter W. from W. (Austria), in May 2020





The assembly is indeed very simple and also described well understandable with your instructions (the work of taking out the quarry stones in the soil from the slope bucket by bucket was the most time-consuming). The stability and functionality of the steps convinced us and met our expectations and we are very satisfied so far. We hope that the effects of the weather on the ground conditions will have only minimal influence on the tread strength.







Andreas K. from R. (Germany)
, in May 2020
Super solution to overcome differences in height!


Karl-Hermann H. from B. (Germany), in April 2020





My husband and I decided to do a partial renovation of the garden at short notice. Now I can work the low part of the slope without damaging the underplanting. The step is easy to move so I can easily reach any part of the bed. 

Good luck with your venture, the steps are the best thing that has come under my feet for this purpose.




Ilse S. from F. (Germany), in October 2019





"For us, pragmatism took precedence over rust romanticism: The pictures accompanying my field report may not look much like upscale garden maintenance. On a very steep slope, we erected several guard rails to secure it and a steel mesh fence to keep out wild boars. For the last metres of height we used the slope steps (or hill stairs) in each case, because they can be moved quickly and flexibly, so that it is always easy to get to the current construction site. It would have been impossible to get the material (posts, mats, cement bags, etc.) in place without a fixture. The slope steps (or hill stairs) here have provided a safe foothold on difficult terrain. This was exactly the help we needed. The purchase is not cheap, but it was definitely worth it. The workmanship of the steps is very good. Despite heavy use, all the steps are still intact."






Andreas R. from W. (Germany), in October 2019





In our search for a practical and quick to implement solution to make our slope safe to walk on, we came across Slopesteps.com. An ingenious solution! The steps were in place in no time at all and provide secure footing and are an eye-catcher. Shipping and assembly as well as the accessories supplied: excellent! The rust effect starts immediately with the appropriate spray, as you can see in the photo.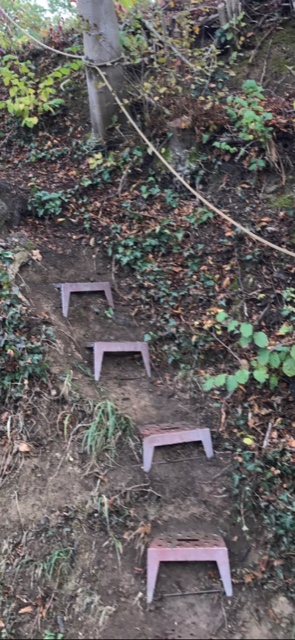 Familiy S. from K. (Germany), in November 2018





We have already recommended Slopesteps.com to others because the idea and above all the execution are really good. So this is also the way to build a garden staircase.

Gabriele M. from N. (Germany), in October 2018